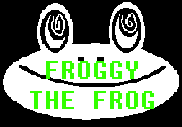 Froggy the Frog
Froggy the Frog is a very short game about your beloved virtual pet, Froggy! :-)
How to play: arrow keys to move/interact. There are 2 endings! :-)
Made for the virtual pet bitsy jam. Here, you can play my other virtual pet themed game.
Comments
Log in with itch.io to leave a comment.
I really like this! Love the art. The bad ending is pretty funny too.
i <3 my friend froggy <3 +loved the art for the bad end v creepy!